SPOTS are to an APPALOOSA horse as PATCHES are to a ?
 (Hint:  The name of this horse breed starts with the letter "p.")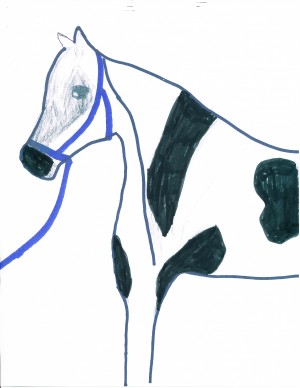 Answer: PAINT horse.
     The spots on an Appaloosa have a wide range of colors and patterns.  In contrast, Paint horses usually have dark patches with a white background.
     Appaloosas and Paints are alike because both are used for Western riding, and sometimes they are shown in competition for prizes if they are beautiful.  Both breeds are naturally good at herding cattle and other farm animals.  They both are used for barrel racing, roping cattle, walking in parades and bronco riding.
What is your favorite sport?
     Analogy and drawings by Sofie, age 12 in Meghan Ward's class at Sage Ridge School, Reno, Nevada.  Mr. Norm Colb is the head of school.